Updates as of 3/19/20 – the following letter applies through 5/10/20
A Message From USY Regarding Covid-19
COVID19- 3.13.2020 Official Letter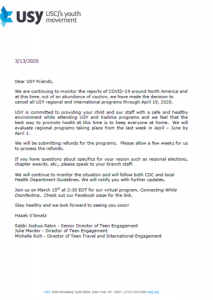 The Tzafon Region of  United Synagogue Youth offers high school students the opportunity to immerse themselves in various Jewish and social activities while forming friendships that will last a lifetime. Tzafon serves grades 6-8 with Kadima and 9-12 with USY throughout upstate New York, western Massachusetts and southern Vermont.
Regionally, USYers enjoy and grow religiously through our numerous conventions, week-long summer encampment, Tikun Olam events, special programs and so much more.
In addition, Jewish teens may take advantage of USY's unforgettable summer programs across North America, Israel, and Europe, as well as the annual International Convention.